Why combine Fudo with SparkView?
It's simple: Since Fudo was designed for highly privileged admin access, the SparkView technology is needed for the user environment to enable ALL the usual functions of a native client (MSTSC, Putty, etc.) via pure HTML5.
In order to realize BYOD scenarios easily and quickly and still guarantee the usual security, the remote access solution SparkView can be connected upstream. SparkView translates the HTML5 protocol into a protocol readable by the Fudo PAM, such as RDP or VNC.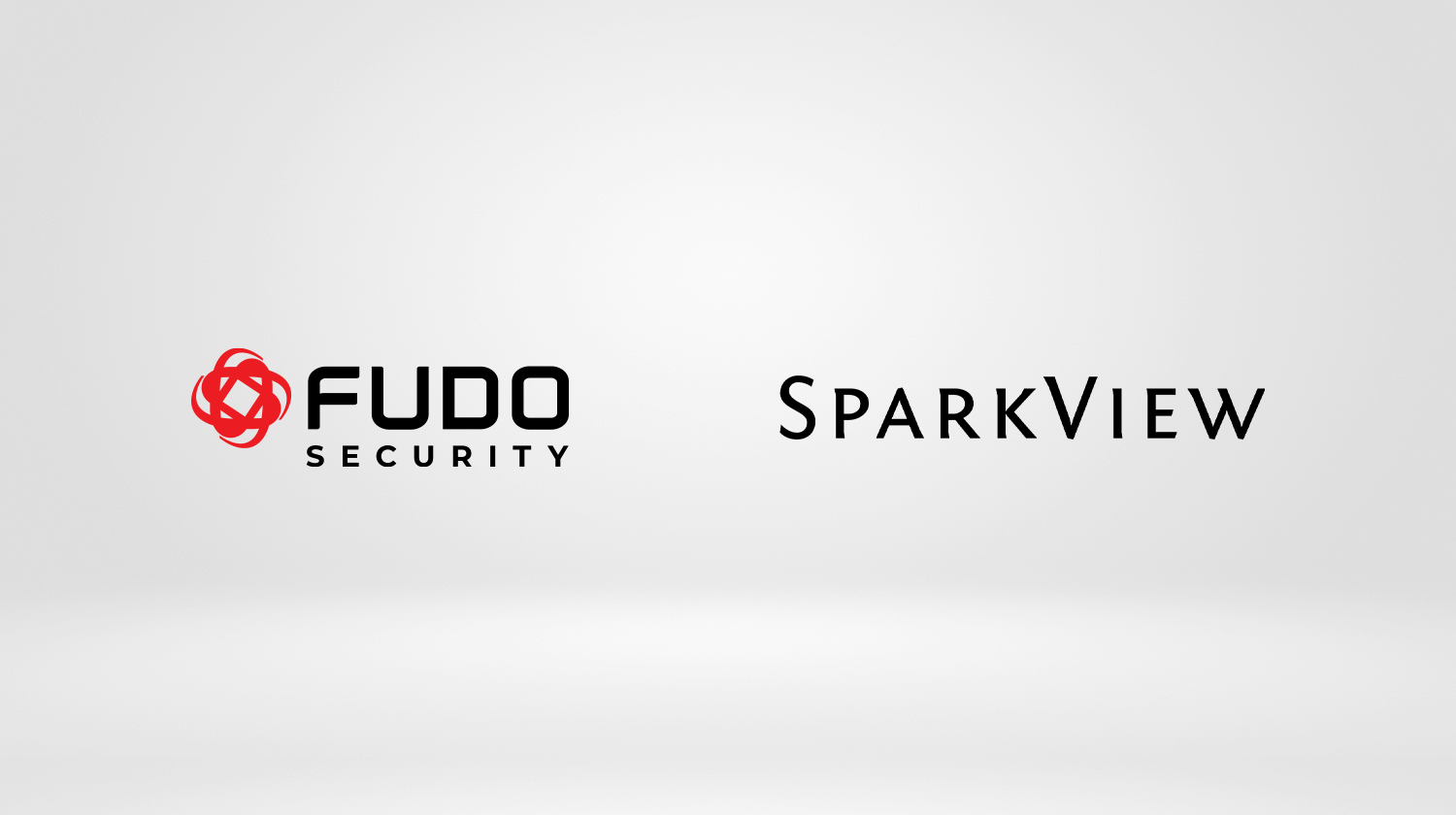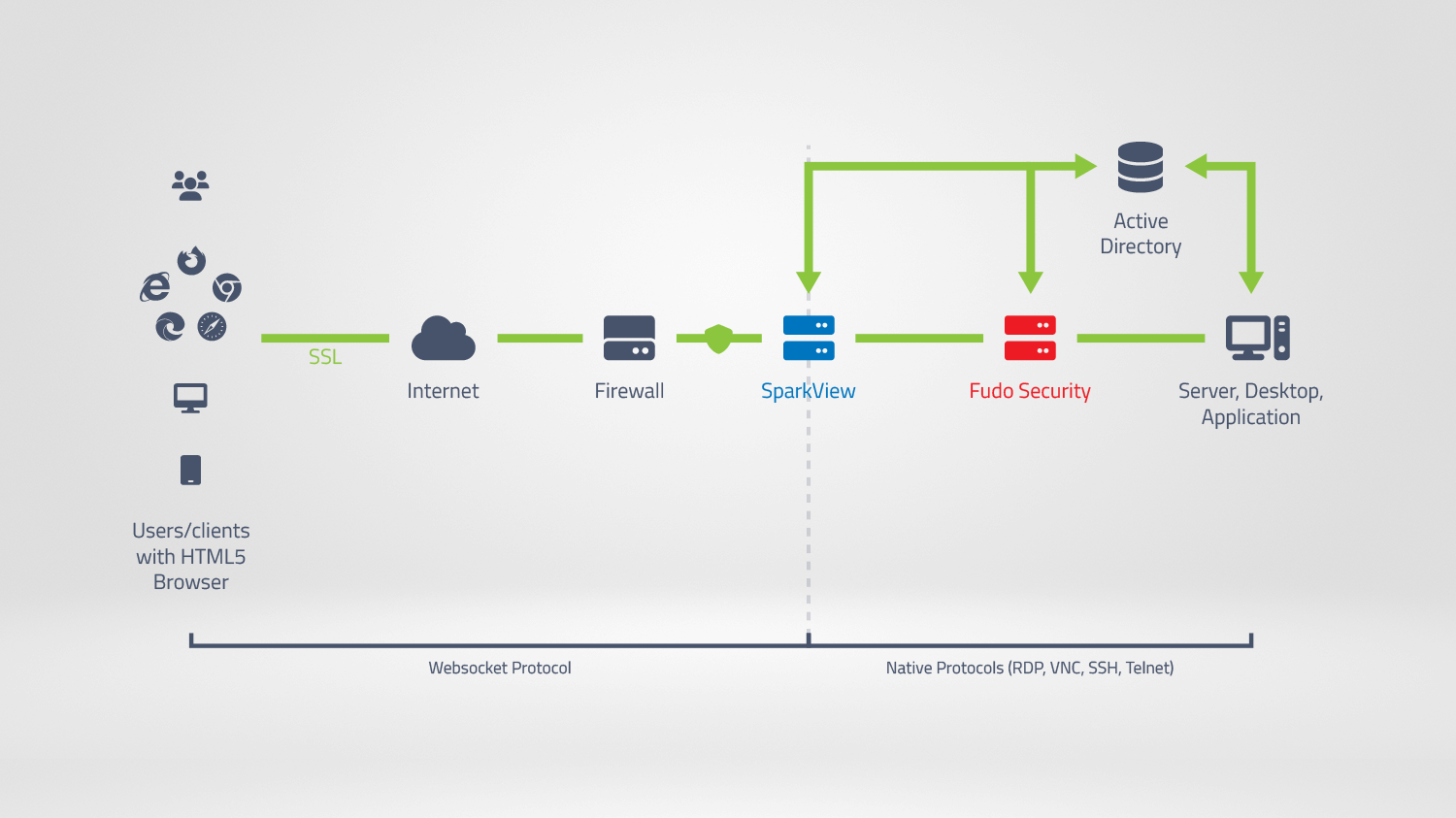 SparkView and Fudo: How it works
SparkView is the best HTML5 remote desktop client for Fudo. It works with any browser, no VPN client needs to be installed and everything runs through a server. Complex software rollouts are completely eliminated and client support is reduced to an absolute minimum. Local printing and mounting of network drives is also possible without additional driver installation.
Is SparkView a good fit for my business?
SparkView is used across an enormous range (from SMB to global corporations) and in a wide variety of infrastructures. Whether you are already working with another VPN provider, or want to use SparkView as your sole remote access point, it doesn't matter. Our technology alliances with F5, or Pulse Secure/Ivanti show that we can cover the area of remote access excellently in any case and also harmonize with other manufacturers.
In addition, due to the simple handling, the desired benefit for your company becomes demonstrable within a very short time. Test setups (POCs) are feasible with little effort (usually less than an hour) and SparkView can be put through its paces by you. During the test phase and in live operation, personal access to our support is available to you at all times. There are no call center queues with us.
"During inspections by the BSI, an energy supplier was confronted with the fact that dedicated RDP ports for remote access were to be closed. An alternative was sought which, in conjunction with the FUDO PAM already in use, would meet the requirements for KRITIS. SparkView was chosen to enable high-performance remote access without having to open RDP ports. At the same time, with SparkView all functions of the FUDO PAM can continue to be used without adjustments."
Matthias Buntz
CTL Computertechnik Lang (beyond SSL Partner)
"Thanks to the Proof of Concept (PoC) method, the software was installed at our company and we could immediately see how easy the program was to use. This made the decision much easier for us."
Thoralf Geese
SMA Solary Technology AG
"After less than an hour, my customers could already work from their home office and the support from beyond SSL was sensational!"
Hans Blädel
ip5 GmbH, Nuremberg
"With beyond SSL, we have a strong and competent partner at our side who supports us quickly, flexibly and pragmatically, even in difficult situations."
Mechanical Engineering
> 5000 employees
Contact us
If you have a question, want to request a free demo or have other inquiries, feel free to contact us!