The right file sharing solution for your business
With FileCloud you have complete control over your data and can easily connect internal network drives because FileCloud runs within its own infrastructure. It is the easiest way to implement file sharing, synchronization and mobile access for your existing file stores. From any device, FileCloud provides secure access to corporate data and users get complete control, privacy and security - even for critical data. Because the security of your data against unauthorized access from the outside is our top priority.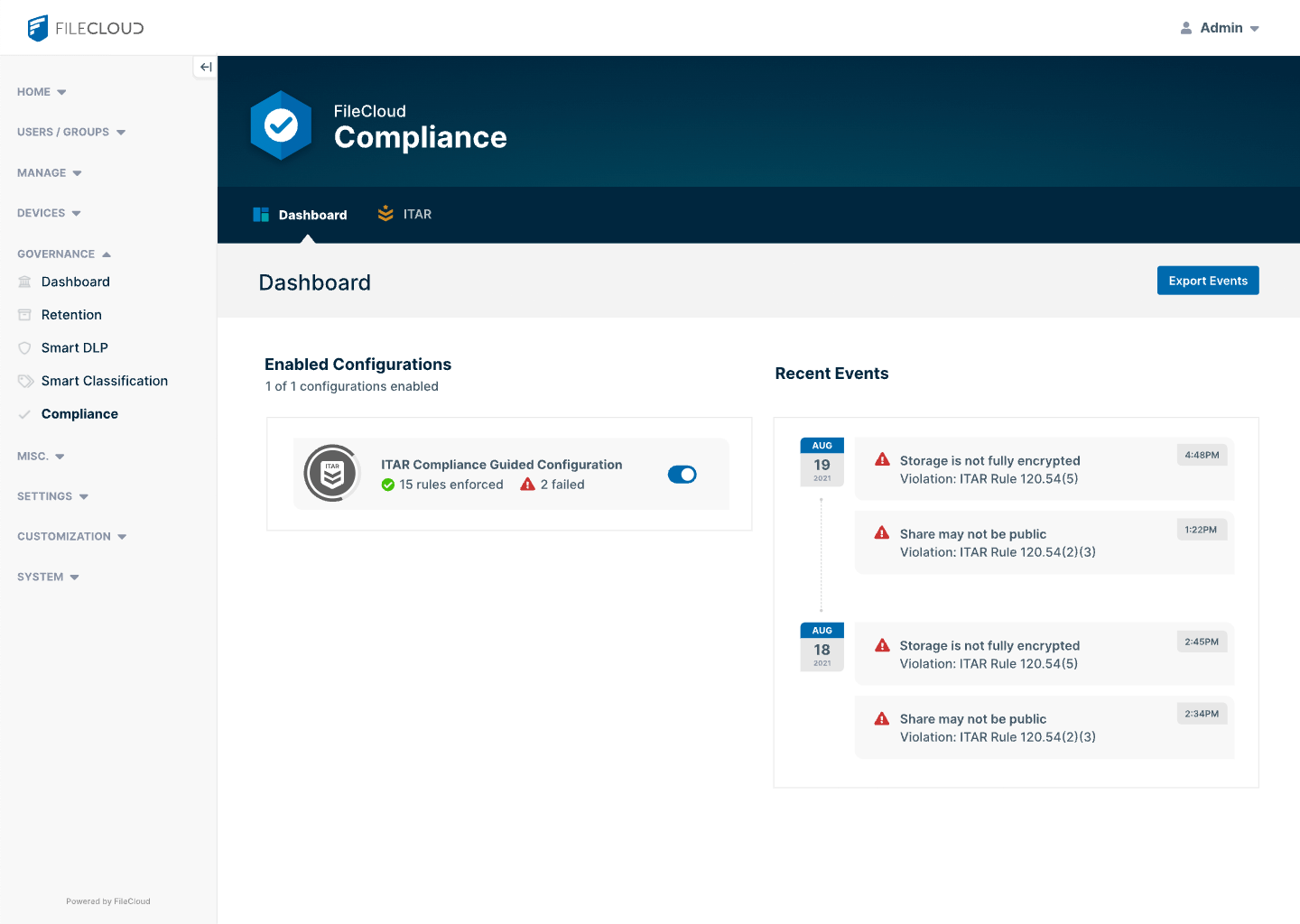 Dropbox alternative for more security
FileCloud offers comprehensive data protection and can be hosted on-premises for file sharing and synchronization. Data paths and storage locations are encrypted according to the latest standards. One of the most important benefits for many companies is the avoidance of data redundancy through the mapping of internal drives. The solution also enables compliance with various regulatory requirements such as DSGVO, ITAR, HIPAA, etc. via a handy compliance dashboard.
Does FileCloud fit my business?
Try it out!
Use FileCloud for free in your company and see for yourself.
Start for free!
Simple pricing for any size business.
Still need time to think or want to try FileCloud first?
Start with the free version or contact us for a Proof Of Concept (POC) and a free demo.
Standard
Secure File Sharing, Sync and Backup
$72
user/year (Minimum 20 users)
Start now
Standard Features
Data remains on your servers
Supports Network Shares, NTFS
Limited Workflow Automations
Unlimited, free external (client/partner) accounts
Includes standard support and updates
Enterprise
High Availability/Clustering, Premium Support
Individual
Minimum 50 users
Contact us
Everything in standard, plus
Governance – Retention, Legal hold and Smart Classification
Unlimited Workflow Automations
Digital Rights Management
Branch office sync (ServerSync)
High Availability/Clustering
Advanced deployment assistance
Administrator and user training
More FileCloud Highlights
Case studies
FileCloud in daily use by companies of various sizes.
Contact us
If you have a question, want to request a free demo or have other inquiries, feel free to contact us!